To build, buy, or use Open Source software for your dev environments - that is the question. You already have so many other big decisions to make regarding your software or product; let's take some of the pressure off. 
Learn more about what you should consider before building or buying your software solution. Stick around until the end to find out how Bunnyshell can help you in this quest.
Building vs Buying Dev Environments - Asking the Right Questions
You want to build reliable, sophisticated, and secure software to handle the multiple environments needed for QA, software and data migrations, production, and much, much more. Regardless of whether you choose to build or buy, it's crucial that you're asking the right questions. 
Consider the following questions: 
* What's your budget? How much time and money will it take for you to either buy software that will fit most of your needs or build a solution from the ground up? How much will either solution cost you long-term (in five years from now)? 
* What are the core competencies and objectives for your business? If you're choosing to buy, is there already a product on the market that fulfills these competencies and objectives? If you're planning on building, these objectives must align with creating software solutions and environments. Additionally, keep in mind that for building, you should (at the very minimum) have the following:
- an established dev team dedicated to CI/CD, including building, maintaining, and supporting the solution 
- legal resources to ensure compliance
- the proper financial resources that come with managing software
- a support team willing and able to deal with glitches and bugs. 
* Can you keep up with the market? Software changes frequently, and different tools become popular while others are forgotten, so if you're building, you're never done with your software once it's up and running. As new tech comes out, what will happen to your internal tools? How will you maintain and evolve? Additionally, when changes occur, you must train your team on those changes.  
* What are your time constraints to implement a software solution? Time is money. If you can save time, you can most likely save money. Could you buy something while also building your own solution? Is it more cost-effective to go with a third-party vendor or pay a part-time programmer? If you're building, remember that implementing, integrating, testing, and training staff to work with new or multiple programs takes time. So maybe a better question is: can you afford to wait while your team works to develop the solution (building), or is the software critical to your day-to-day operations (buying)? 
Pro tip: you would only build if you have use cases that aren't handled by Open Source / third-party services. If those use cases are handled by third-party services, then your decision boils down to the cost. 
Sure, building is a drain on resources, and buying can be unreliable because you never know if you'll get exactly what your team needs. But you know what's worse than both? Postponing the decision and not doing anything while your devs are in desperate need of a solution. Answering these questions can bring you one step closer to deciding whether you want to build or buy. Now, let's look at some advantages and disadvantages for both.  
Advantages and Disadvantages of Building Your Own Dev Environments
Advantages
Greater control - being the sole owner of the solution, you'll have complete control over things like system updates, user options, and building it to fit your exact needs according to your internal workflow. Additionally, if you have sensitive data that you don't want to allow third-party services to access (like your code or a config file for a remote dev), you may consider building in-house on your local infrastructure to increase security measures. 
Better customization - the software you choose will be tailored to your specific and unique business needs and challenges. You'll have the possibility of prioritizing and adding new features when needed to ensure you're running smoothly. You can also build it to work seamlessly with all other processes, tools, or software in your stack. If cost is a major concern, you can start with a prototype to then scale and grow as your revenue increases. 
Disadvantages
High costs - businesses must bear the full cost burden of building a customizable option, including research and development investments, compliance and legal fees, maintenance and support, the initial buildout period, and data storage, among others. These costs will be unpredictable and ongoing, so you must indefinitely provide solutions for bug fixes, maintenance, and platform updates.
Technical complications - devs and engineers who know the industry very well are hard to come by, and building a high-velocity team is difficult. Do you hire someone externally and risk losing their support when they have new projects, or do you hire internally and risk losing your more competent team members to a long, arduous process? Ask yourself and your team the following questions to be more technically literate: 
Can you design the system to support all business objectives and the needs of a multi-team organization, including having multiple, scalable, cost-effective environments implementation?
Does your team have the bandwidth to keep fixing things when they break or to help others internally use the system?
Does your system meet internal security and privacy requirements or external standards (like ISO27001)?
Will your system handle PII or other sensitive information? If so, can you ensure that it's handled and protected properly? 
Check out more questions you should ask your team before getting started here. 
Delayed time-to-market - developing an in-house solution can take months, sometimes even years, depending on the complexity of the project, size, and technical capabilities of your team. Usually, with software development, the need is immediate, especially if there's a need for multiple types of environments. Therefore, it's crucial to minimize time-to-market. Also, keep in mind that an in-house solution is a minimally viable product compared to a robust, already complete, and perfected third-party solution. Plus, costs may go up, and your timeline may extend, seeing as these are unpredictable factors with an in-house solution.  
Advantages and Disadvantages of Buying Dev Environments
Advantages
Lower upfront costs - by buying a third-party solution, compared to the high costs of building your own solution, you don't spend anything on operational, maintenance, or research and development costs. In turn, you're maximizing revenue and value. 
Faster time-to-market - in addition to minimizing the risk of any unforeseen delays, buying a solution can increase time-to-market by 90%. The time to implementation may be a few months or less. 
Access to more comprehensive solutions - with a third-party solution, you have dedicated experts with industry experience by your side. These experts can draw on this experience to solve complex problems, develop comprehensive solutions, and predict patterns to benefit your stakeholders. Your team can dedicate that time towards their environments instead.   
Higher Functionality - newly built (in-house) solutions lack the functionality that third-party solutions already have. Third-party solutions will keep up with maintenance and regularly update for new features and functionality to remain competitive and satisfy their customers. Not just that, but your team can focus on essential tasks. 
- Take an example of an end-user coming to you and saying that your app or product would work much better for them if it worked in that way instead of in this way. With an in-house solution, you'd have to take a lot of things into perspective, like how likely you are to go back and make the necessary changes, how much more money, time, and resources this will cost you, etc. By removing the need to update internal solutions (through buying a solution), devs can focus on the product (and their environments). 
Disadvantages 
Less control and customization - the solution isn't custom-built for you, so customization is limited. Additionally, all key decisions about the software's features and uses are out of your hands. Plus, you're using many of the same features and tools that other organizations use, so your chances of gaining a competitive advantage are slightly lower. 
Connectivity and compatibility issues - buying a solution may limit you to the tools, devices, programs, or products you're using now or may want to use in the future. 
Unpredictable long-term costs - a third-party solution may be cheaper upfront, but its costs can grow over time. If you need to expand features and capacity, annual subscription fees can start to add up. You'll also have to reinvest once subscriptions or licenses run out. 
You may end up not using some features - users must have a need for and be able to easily use the software. If the software you buy is complicated and intimidating to use, you won't end up using it to its full advantage. It might be better to try the software before building or buying something that you may not use. Assessing the software from a usability perspective is especially important when considering scalability. To scale process changes across the business, you require the best software that's easy to use.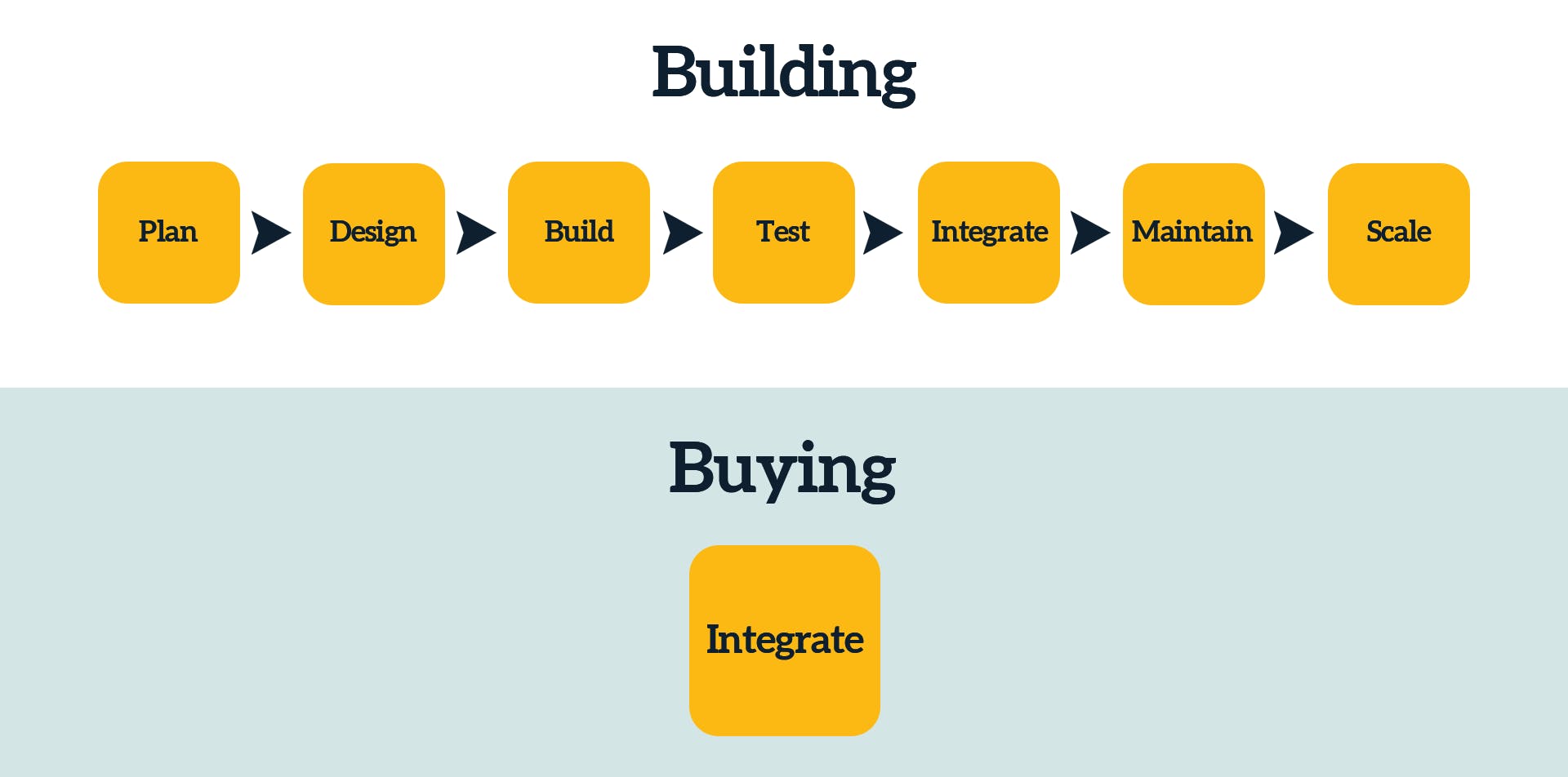 Try Environments as a Service
Each option comes with its own set of advantages and disadvantages, but say you've decided to buy your solution. So, where do you start? How about with Bunnyshell? More specifically, with Environments as a Service (EaaS). EaaS allows your team to have multiple environments that they can use for QA, testing, software and data migrations, production, and even training new devs. 
Additionally, an EaaS solution is scalable, matching your exact business needs and keeping costs under control (thanks, ephemeral environments). Take the stress away from your team by allowing them to automatically create environments faster, more reliably, and only use the tools and resources they need. Achieve faster time-to-market and enable stakeholders to offer feedback and insights at various points of the process for ultimate customer satisfaction. See more EaaS benefits here.
Will You Build or Buy?
In many cases, some of the best software on the market already exists. Case in point - Bunnyshell. If you decide to build, it's possible that by the end you'll be so far behind your competition that all that time, money, and resources you spent will have gone to waste. Why take the chance? Instead, invest in your team and your company the right way. [..]
Enable High Velocity Development
Breakaway from the inability to quickly deploy isolated environments of any specification.