84% of enterprises have a multi-cloud strategy, and 58% use both public clouds and private clouds as part of that strategy.
Why?
Because multi-cloud architectures prevent vendor lock-in, improve application performance, enable resilience and compliance, and provide security and flexibility.
However, while the benefits are substantial, we can't overlook the challenges that arise from adopting a multi-cloud strategy: multiple skill sets and vendors to manage and complex migration processes.
This is where multi-cloud management tools can help. They eliminate disadvantages by simplifying the management of multi-cloud architectures. 
Not all tools are created equal, though, so, in this article, I'll shed some light on the best multi-cloud management platform on the market and what makes them great.
Enable High Velocity Development
Breakaway from the inability to quickly deploy isolated environments of any specification.
Scalr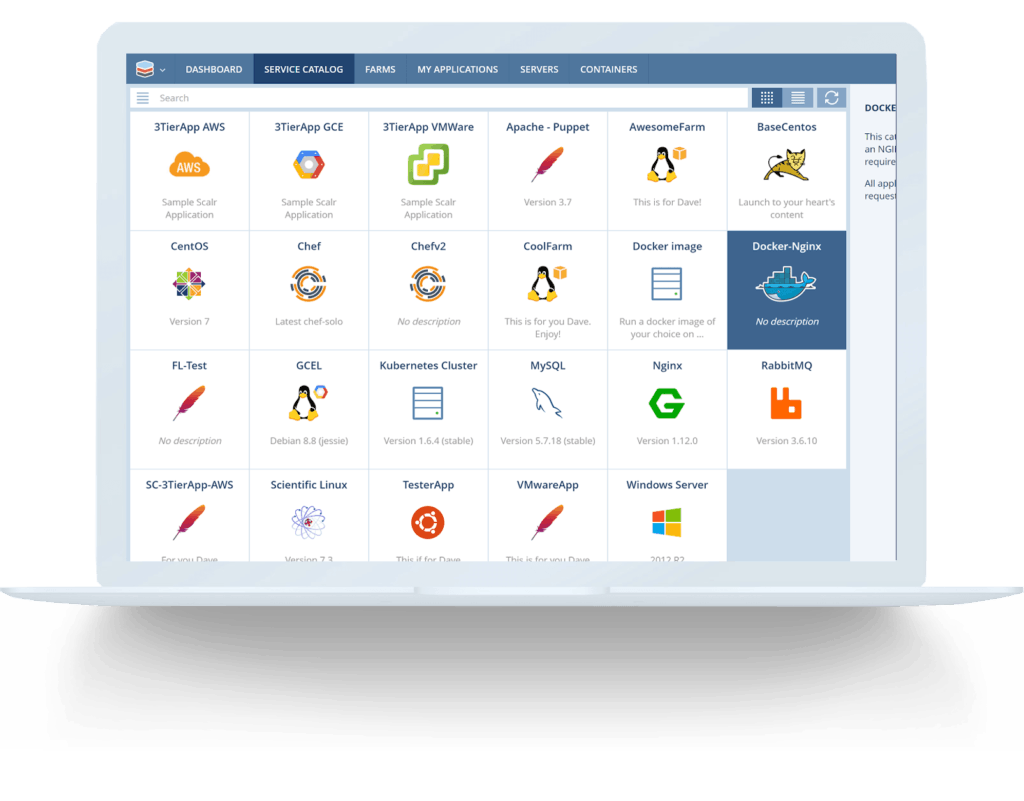 Designed with enterprise-scale in mind, Scalr helps standardize usage, control costs, and allows users to choose the best cloud services for their needs without vendor lock-in. It provides unmatched flexibility and efficiency, and the best part is that it allows you to create your own custom policies that enable you to build a compliant multi-cloud environment by automating these policies. 
Best For:
This cloud management platform is a great tool for big organizations that have many departments, offices, and sites to manage. Both Gartner and Forrester name it a "leader" in the field, and its most notable customers include NASA JPL, Xerox, Samsung, the FDA, and Sephora. 
Embotics vCommander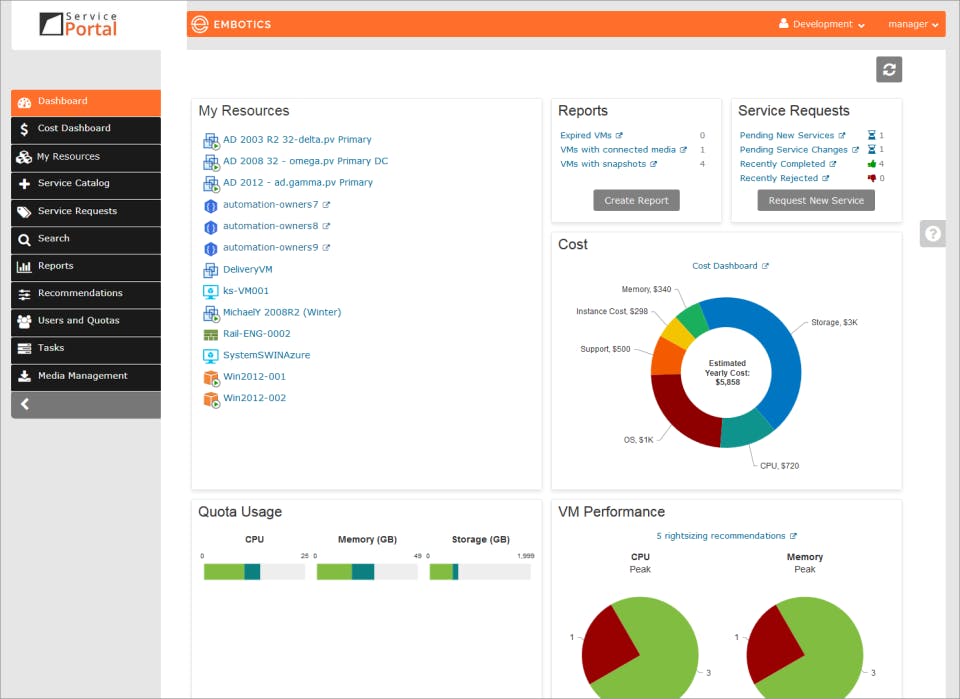 Another "leader" in the field, Embotics Commander is the fastest and easiest way to automate provisioning across private, public, or hybrid cloud infrastructures. This is why it's highly rated by customers such as NASA, Nordstrom, NTT Data, Pega, and BriteSKy. 
It makes automating existing infrastructure possible while also allowing for greenfield deployments, has great reporting functions, plugs into any API, and has a scripting engine.
Best For:
This is a great cloud automation platform for IT organizations and service providers that need to improve provisioning or enable self-service capabilities.
IBM Multicloud Manager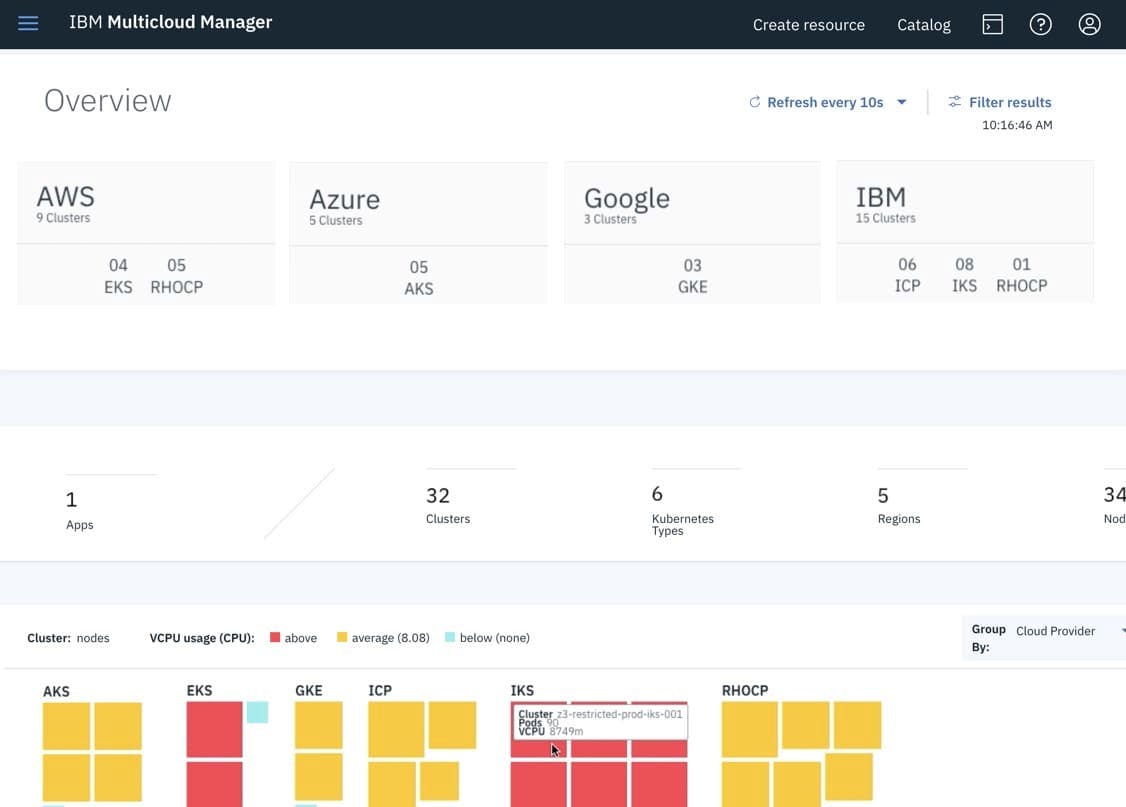 The IBM Multicloud Manager enables organizations to manage environments across multiple Kubernetes clusters and clouds. By integrating all environments into a single view, you get better control over automation.
What differentiates the IBM multi-cloud platform from other cloud management platforms are emerging technologies such as Artificial Intelligence and the listing of Rubbernecks clusters on a single dashboard page. It's also easier to use compared to other platforms on the market.
Best For:
This is truly a great tool for small teams with offices all over the world that want to have better visibility over things happening in their organization.
Nutanix Beam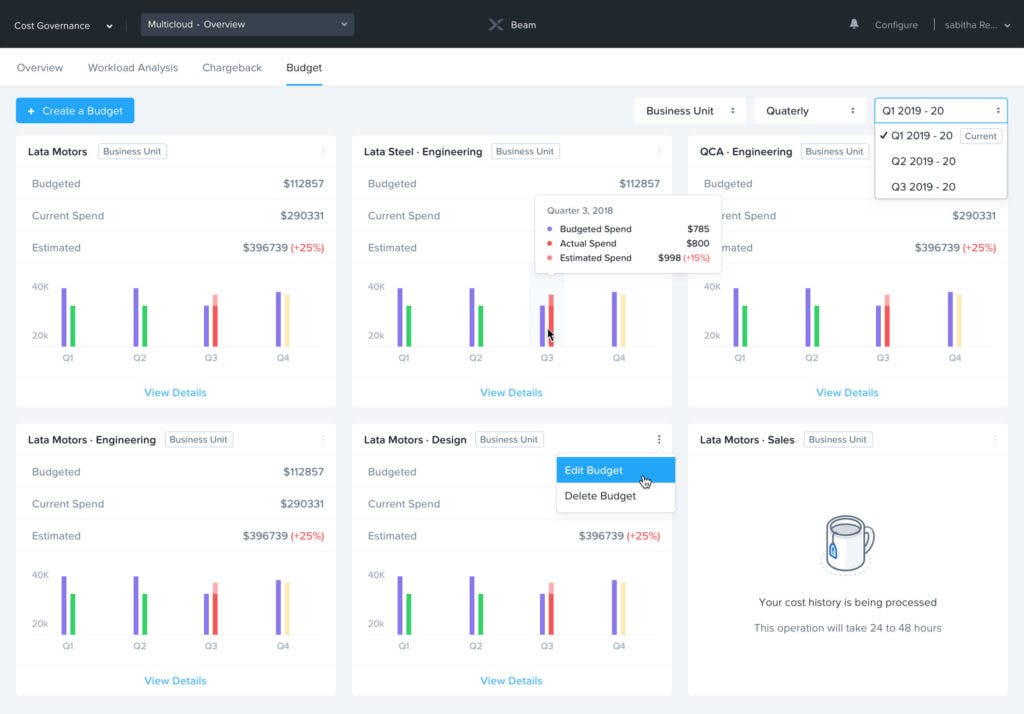 Nutanix Beam is a multi-cloud management platform that provides organizations with insights into cloud consumption patterns and solutions for cost optimization and security compliance.
By identifying idle and underutilized resources, the platform delivers specific recommendations to ensure optimal cloud consumption. Moreover, Machine Learning algorithms can make purchase recommendations that allow for significant cost savings.
Security compliance is automated by using 250+ audit checks that identify vulnerabilities in real-time. Then, potential threats are resolved before they become concerns. 
Last but not least, the platform helps organizations certify and maintain compliance with regulatory policies such as HIPAA, ISO, PCI-DSS, CIS, NiST, and SOC-2
Best For:
The platform is best suited for cloud teams that seek better visibility of their expenditures and want to achieve cost savings, especially when using Amazon Web Services as their cloud services provider. 
Flexera Cloud Management Platform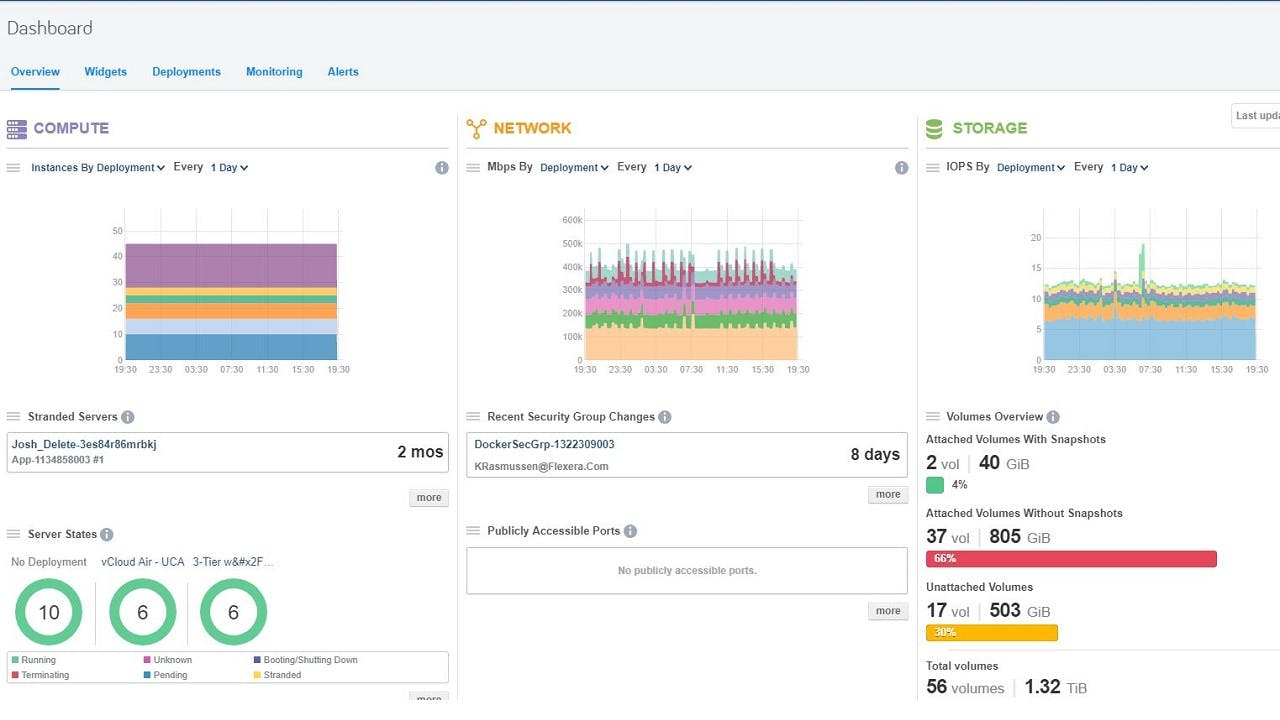 Flexera is a cloud management tool that offers a robust set of capabilities to simplify the control of cloud cost across multiple cloud platforms. It also offers capabilities for discovery, template-based provisioning, orchestration, automation, operational monitoring and management, and governance.
It's a very stable platform that can serve lots of deployments, the onboarding process is simple, the documentation is thorough, and the support team is only one call or email away.
Best For:
Flexera is a great choice for small and medium-sized enterprises that need a powerful orchestration engine and the ability to automate workflows.
OpenStack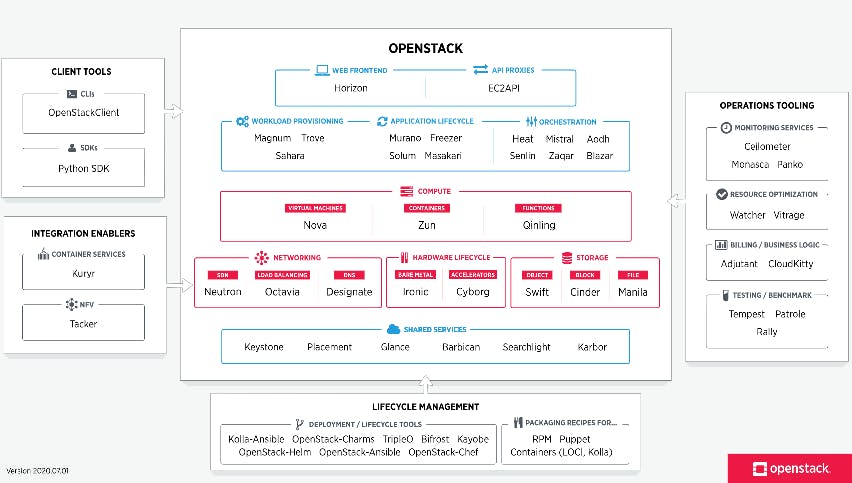 OpenStack is an open-source cloud management platform that enables organizations to control large pools of compute, storage, and networking resources. It has an excellent top-down design and the widest range of features such as virtual networks, bare-metal support, container support, integrated VM and container support, VLAN-aware VM support, and more. It also offers organizations rack space as a main service. 
OpenStack works with many enterprise and open-source technologies, which makes it a great choice for heterogeneous infrastructures. It's an ideal tool for most companies, but especially for organizations operating on a tight budget because not only it's completely free, but it's also very easy to use and highly scalable, which means it's not necessary to have highly trained personnel to use it. 
Cloudify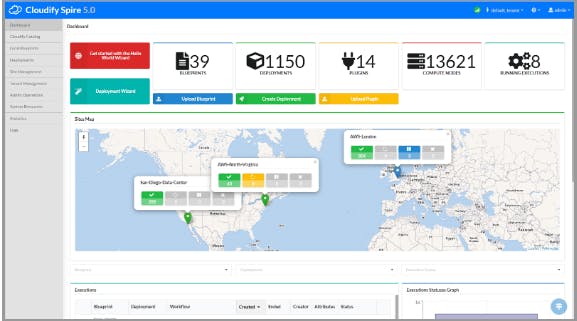 Another open-source multi-cloud orchestration platform, Cloudify enables the automation of all clouds from one access point using existing toolchains. 
The Python support is also a huge plus, along with the effectiveness of the uploading / downloading of the information added to the system function (works better than other platforms that are slower and cause various issues).
Best For:
Cloudify works great for deployingnetwork services. It's also extremely easy to use (especially with the widgets) and the support team is very knowledgeable and helpful.
Bunnyshell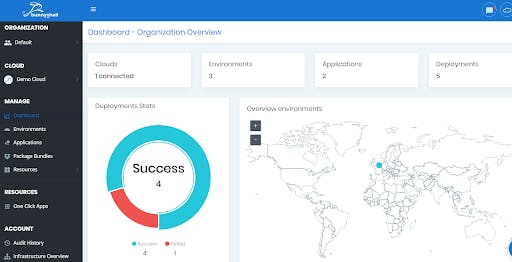 We couldn't end this top without also mentioning Bunnyshell, right? 
While other solutions on the market are good also, one of their main disadvantages is that their capabilities are limited to a certain type of task – provisioning, deployments, or monitoring & alerts. 
Instead, Bunnyshell is an easy-to-use cloud management platform that has a graphic interface for multiple clouds and can automate all steps, from code to production. It can automatically configure, scale, and deploy applications across multiple cloud providers.
Bunnyshell can help you create and maintain virtual machine instances, manage security settings, and move applications from one cloud to another on-demand so you can find the best cloud hosting environment for your needs. Even the most complex architectures can be seamlessly orchestrated with Bunnyshell. 
Last but not least, you can use our platform to simulate migrations and provide visibility and functionalities to ensure seamless deployments, security, uptime, and change management.
Summing Up
No matter your business needs, these are the best cloud management platforms you can choose from. The final choice will depend on your answer to the following questions:
What cloud provider do you need your management platform to support?
What other tools do you need your cloud management platform to integrate with?
How advanced do you need your CMP's capabilities to be?
Looking for an all-in-one cloud infrastructure solution that offers speed, scalability, and security for hyper-growth?