As organizations strive to meet ever-increasing user demands and remain competitive, the role of DevOps practices and deployment tools has become more crucial than ever. To help teams deploy applications swiftly, seamlessly, and reliably, Environments-as-a-Service platforms have emerged as a solution. But which platform should you choose?
This article aims to compare two Environment-as-a-Service solutions, revealing for what type of organization Bunnyshell could be a better Release.com alternative.
About Bunnyshell
Bunnyshell offers an innovative Environments as a Service platform that simplifies the process of generating and overseeing comprehensive full-stack environments designed for development, staging, and production purposes. This empowers teams to deliver software faster while concentrating on the creation of exceptional products.
With Bunnyshell, teams have the capability to establish diverse environments within their chosen cloud infrastructure, spanning from basic static websites to intricate applications that encompass multiple cloud-native dependencies, such as microservices.
About Release.com
Release simplifies and offers a cost-efficient solution for crafting complete cloud-native ecosystems, including data, as needed. These ecosystems serve various purposes, such as testing and reviewing features within the development process, supporting live applications, and delivering SaaS products within customers' virtual private clouds (VPCs). 
Release enables engineering teams to accelerate code deployment without the added concern of managing infrastructure, facilitating a faster and more efficient development workflow.
Bunnyshell vs Release.com Comparison
| | Bunnyshell | Release.com |
| --- | --- | --- |
| UI | UI toolkit | Simple UI |
| Can extend UI | Through API | No |
| Navigation System | Mid-high | Mid |
| Email Notifications | Yes | No |
| WebHook Notifications | Slack | Slack |
| Monitoring | - | Datadog |
| Documentation | Mid-high | Mid |
| Support and SLA | Yes | Yes |
Developer Experience
Regarding developer experience, Release.com has a simple UI and a mid-level navigation system, but it doesn't include themes or the option to extend the user interface and engine. 
With a focus on enhancing the developer experience, Bunnyshell provides an intuitive user interface (UI) and a robust command-line interface (CLI). 
The UI has a sleek and user-friendly design, ensuring seamless navigation and operation, even for developers who are new to cloud management. Conversely, the CLI delivers potent functionality for users who favor command-line tools.
Bunnyshell is a versatile platform that accommodates various work preferences while simultaneously ensuring the effective deployment and management of your applications.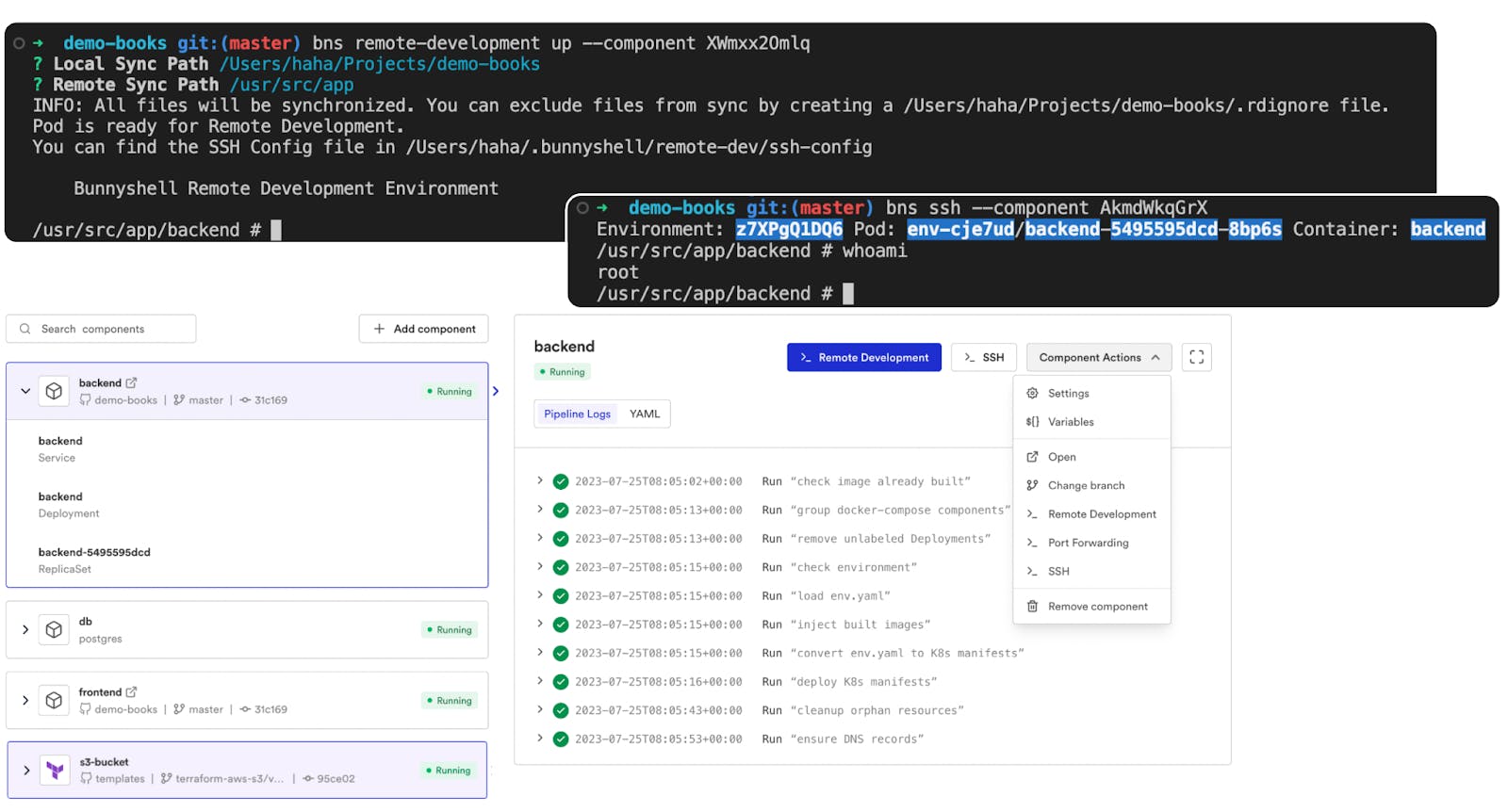 Security
In terms of security, although Release.com comes with basic security features, it doesn't offer options for user and organization management. 
Bunnyshell has built-in security features and best practices to protect users' data and infrastructure. Our platform supports compliance standards, such as GDPR and HIPAA, helping you meet regulatory requirements. Both solutions are also SOC2 certified.
Integrations
Integrations is probably the area of utmost importance for developers. Release.com only offers integrations with Amazon Web Services (AWS) and Google Cloud Platform (GCP). There's also limited support for external CI integration. 
Bunnyshell offers an extensive range of integration possibilities for managed Kubernetes clusters spanning various cloud providers. This native integration capability ensures a seamless connection to your clusters. Yet, the flexibility doesn't stop here. With Bunnyshell, you can connect any cluster, regardless of its geographical location, through the Kubernetes API. This guarantees absolute control over your clusters, regardless of their hosting locations.
In addition to Kubernetes, Bunnyshell extends its support for integrating other cloud-managed services via Terraform modules. This enables you to effortlessly incorporate and manage a diverse array of services from various cloud providers, all from within the Bunnyshell platform.
The capacity to seamlessly integrate with multiple cloud providers and services positions Bunnyshell as a platform that truly supports a multi-cloud approach. This enables you to distribute your application environments across distinct cloud platforms, capitalizing on the distinct advantages each offers, all the while overseeing them from a unified, singular platform.

Bunnyshell also supports automation and integrates with popular DevOps tools like Jenkins and GitLab to enable you to automate repetitive tasks. This way, you can focus on development rather than infrastructure maintenance.
The integration with Git provider accounts makes the sign-up process incredibly smooth and straightforward. Once you've signed up, you'll gain access to an extensive catalogue of environment templates designed to streamline the setup process, enabling you to launch your applications swiftly and efficiently.
Moreover, you can choose from specific workflows to integrate seamlessly with GitHub Actions. These workflows enable the creation of full-stack environments during pull requests, further enhancing your development and deployment process. With Bunnyshell, you get a platform that not only simplifies deployment but also adapts to your needs, making your software development cycle more efficient and effective.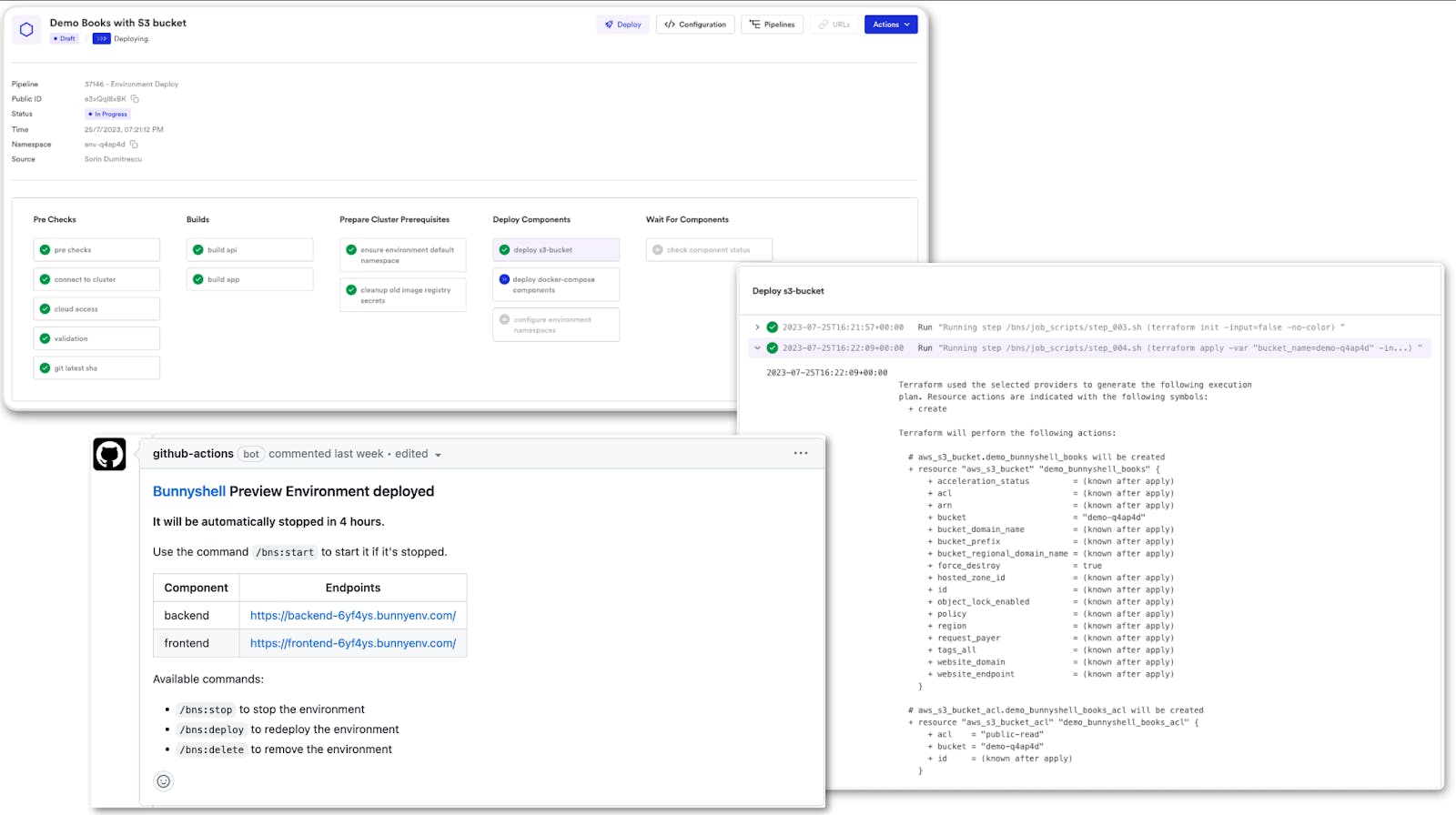 Engineering Metrics Dashboard
Bunnyshell's engineering metrics dashboard is a powerful tool that provides a comprehensive overview of your DevOps health. It includes DORA metrics, as well as other types of metrics, offering valuable insights that can help you optimize your software development cycle. This dashboard is designed to identify potential bottlenecks in your process, enabling you to address them proactively and maintain a smooth, efficient workflow.
In terms of cost management, the platform tracks the infrastructure costs for each environment in granular detail, which allows you to understand exactly where your resources are being spent. We provide intuitive dashboards that display the costs associated with development or pull request environments, helping you keep track of your spending patterns. This level of detail not only helps you manage your current costs but also aids in forecasting future expenses and planning your budget accordingly.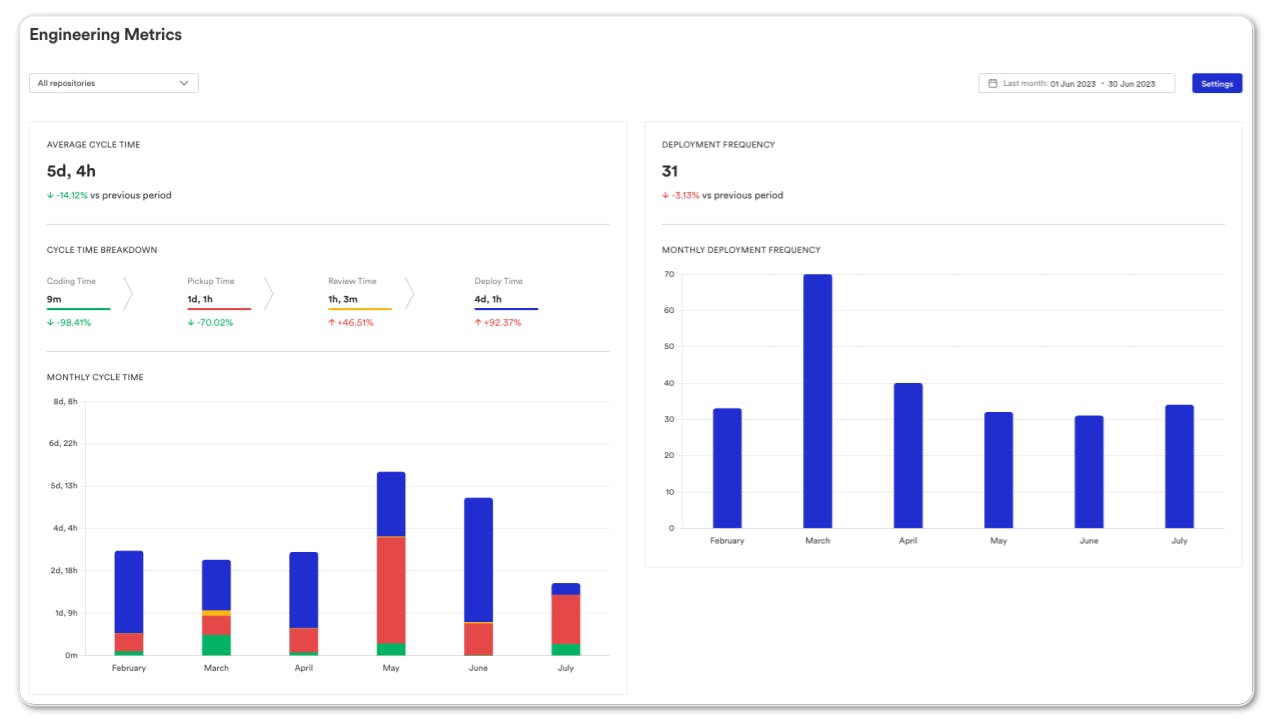 Bunnyshell vs Release.com Pricing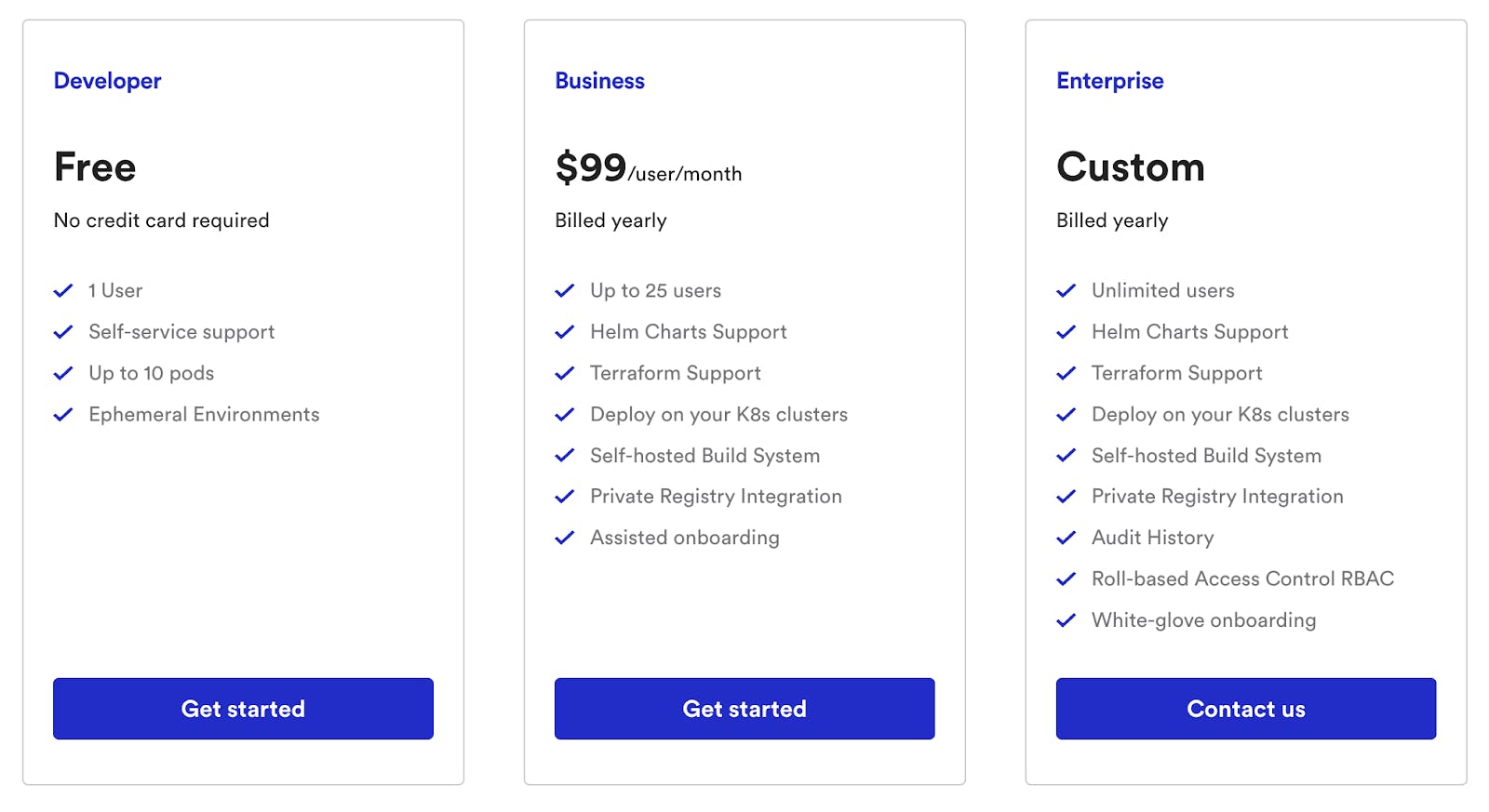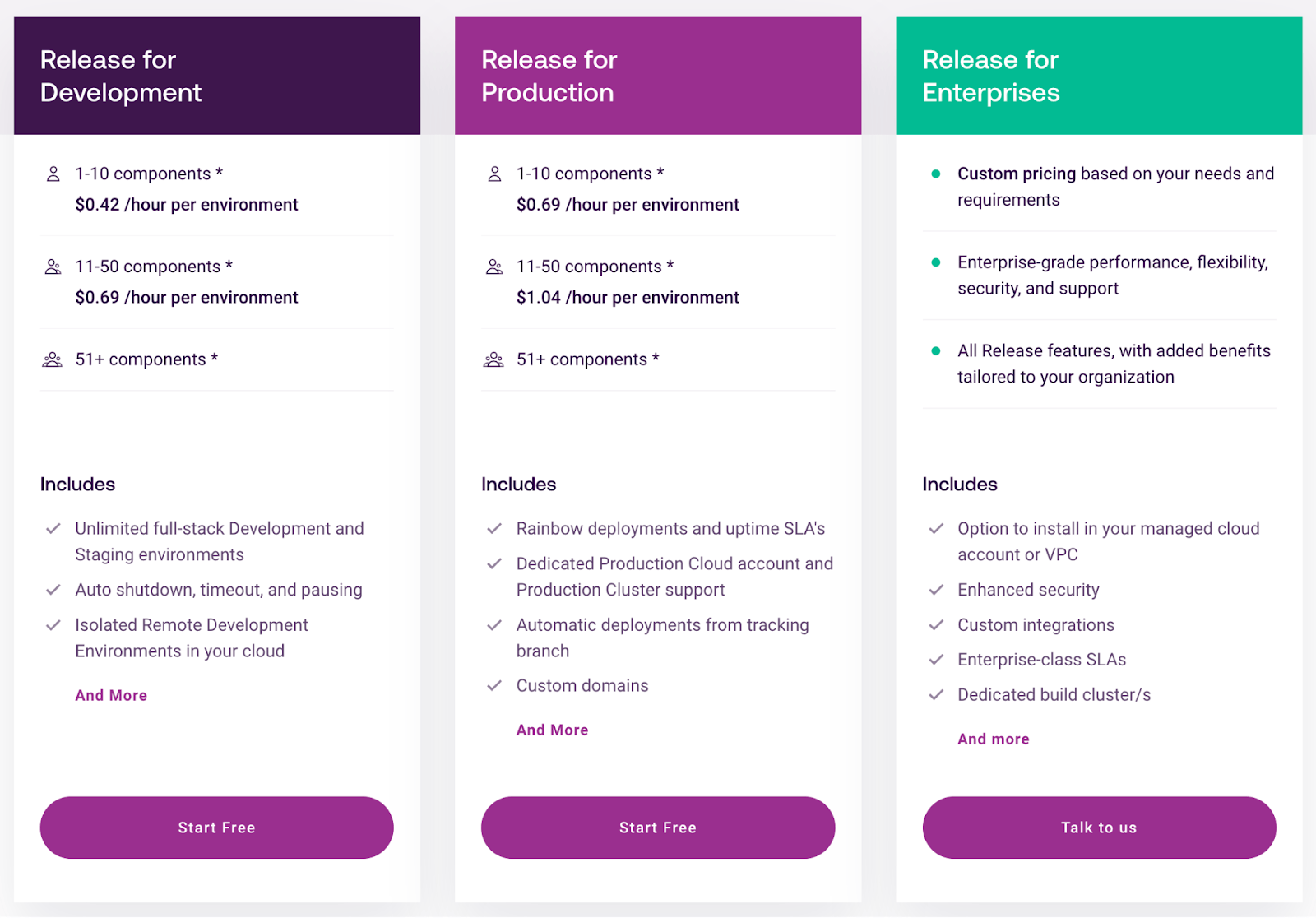 Summing Up: 7 Reasons to Choose Bunnyshell
#1 Ease-of-use - create an unlimited number of environments with just one click
#2 Endless customization options - customize your deployment process according to your unique requirements
#3 Countless integration options - seamless integration with all the tools and services you already use in your development workflow
#4 Performance and reliability - we guarantee 100% uptime
#5 Unlimited scalability - from small projects to enterprises with complex infrastructures, Bunnyshell can handle any deployment scenario
#6 Support and documentation - 24/7 support, extensive documentation resources for self-service
#7 Cost-optimized - the more you grow, the less you pay